The culture of "thuốc lào – Tobacco" coffee in Saigon is a new and increasingly popular concept.
Dear Saigon from the past until now has always been open to welcome the flow of people from all over the world to come here to gather. There are people who really see Saigon as their second home. Saigon is easy to come but difficult to go. When you go, you have to bring with you so much dear nostalgia, not wanting to leave.
The "thuốc lào – Tobacco" coffee culture in Saigon is an integral part of the city's diverse picture of culinary and entertainment culture. The unique combination of these two specialties has created a distinct culture, attracting not only locals but also foreign tourists.
The history of the development of "thuốc lào – Tobacco" coffee culture in Saigon dates back many decades when coffee and "thuốc lào – Tobacco" used to be two typical cultural symbols of South Vietnam. However, combining these two specialties is only trendy and has become a trend in recent years, when the search demand for this type of experience is increasing.
First, the flow of people from the northern provinces to Saigon increased sharply, so the demand for coffee shops with "thuốc lào – Tobacco" also increased sharply. Cafes serving farmer's pipe and "thuốc lào – Tobacco" have also appeared more and more, meeting the needs of new players coming to Saigon.
Besides, the flow of people moving to Ho Chi Minh City to work and settle has also led to the strong integration of the "thuốc lào – Tobacco" culture. Spreading from the settlements of the Northern people, the "thuốc lào – Tobacco" culture crept through every cave and alleyway, from residential neighborhoods to high-class villas, where people could be seen smoking "thuốc lào – Tobacco" with a farmer's pipe.
The young generation in Saigon is the generation that is most exposed to this hobby, making a great contribution to the development of the "thuốc lào – Tobacco" culture in this land of Saigon – Ho Chi Minh City. When going through the "thuốc lào – Tobacco" coffee shops in Saigon, it can be seen that most of the customers here are young people, students, working people, etc., belonging to the GenZ generation.
The outstanding feature of "thuốc lào – Tobacco" coffee compared to traditional coffee models is the harmony between the rich and passionate flavor of Vietnamese coffee and the pungent, pungent taste of "thuốc lào – Tobacco". This combination creates an enjoyable experience for the person to enjoy, bringing a feeling of refreshment, alertness, and effective stress relief.
In Saigon, people are used to the comfortable lifestyle of "anything is available", which doesn't take too long for Saigonese to look for anything. However, to find a farmer's pipe here, almost all people who have lived for a long time can see it. Causing many difficulties for tourists or newcomers.
How is coffee dear to Saigon?
Early in the morning, office workers sit at a sidewalk cafe. Enjoy in a hurry 1 loaf of meatloaf or a box of sticky rice. Next to them is a cup of fragrant iced milk coffee. Sometimes, you guys shake the ice cup to melt, wait for it to be less, and enjoy it more delicious.
Students, students carrying armpits, holding a lunch box with ribs, stopped the car and stopped at a coffee kiosk, calling out "Give me a cup of black coffee without sugar with lots of ice, auntie!" Then rush to school, Saigon is idyllic and dear with coffee cups like that! Coffee is the source of life, coffee is an indispensable friend of the Saigon people.
Northerners in Saigon look for a coffee shop with  "thuốc lào – Tobacco" in Saigon
It is no exception, many Northerners have also come to Saigon to set up a business, with the hard-working and tolerant personality of the people of the North, they easily succeed and make their mark in this land. They do not have much difficulty integrating and experiencing a new city, or a new environment.
Adaptation and integration are like that, but the "thuốc lào – Tobacco" culture has been deeply ingrained in the soul since they were still in the North, they can't give up, they are always looking for a cafe that serves  "thuốc lào – Tobacco" and iced tea…
While language is a major barrier for immigrants, languages can be learned quickly and early. Only custom is to be preserved. Integration without assimilation.
Saigon with coffee shops that are not "thuốc lào – Tobacco"
It is not difficult to find cafes on the alleys or main streets of Saigon. Instead of sidewalk iced tea, the coffee shop here is respected and trusted, "choosing to send more gold". Certainly, many sidewalk iced tea shops have been opened, but most of them are untenable. Saigon is expensive, and Saigon is magnificent,… making it difficult for small traders and small owners to do business selling water with only 3000vnd for 1 cup.
Is there a coffee shop with  "thuốc lào – Tobacco" in Saigon?
The answer is yes, but very little. As we said above, the  "thuốc lào – Tobacco" culture is in the North. In the South, they often smoke "333" cigarettes for quick and convenient. Instead of iced tea, the sidewalk is familiar to Hanoians. Saigon is a coffee shop that also has a cigarette cabinet with "3 33", "Jet", "Saigon Silver", and "Cat"…
Where is the premium coffee shop in Saigon?
Of course, there are people who are also good people, there are bad people and there are good people. Hope you friends, friends, professionals… please don't assume that the Saigon people who sell "thuốc lào – Tobacco" and farmer's pipes are also chopping and slashing. If you google a few items, if you see us, then congratulations. You have found the right place to "choose your face to send gold".
Tien Lang Coffee – "thuốc lào – Tobacco" coffee in Saigon
Establish:
Formed at the beginning of 2019, originating from the Phu Gia "thuốc lào – Tobacco" shop, the shop sold the first orders to the person who smoked " thuốc lào – Tobacco". The brothers begged us to sit back and play and order coffee "corn" on the sidewalk to drink. Over time, we bought coffee and brewed it ourselves "for cheap".
A new problem arose, the association was getting more and more crowded, and the small apartment was not enough for anyone to sit. We decided to open a coffee shop with the main purpose just to please the first customers to buy Phu Gia "thuốc lào – Tobacco".
Develop
Our "thuốc lào – Tobacco" association began to grow, one person invited another, the other invited another friend, another person brought a lover… Because our coffee is delicious, we create a comfortable atmosphere for everybody after a long day of work and study. Thereafter, we received a lot of positive feedback from customers. Gradual predestined to the service industry.
We bravely rushed forward, choosing the best coffee for all ages. They also send people to learn bartending and store management to further develop all aspects of the beverage segment as well as manage and develop a complete cafe for everybody.
Today
Up to today, we are proud to have more than 100 types of farmer's pipes with many designs, types, constantly being updated, and the best prices on the market.
We also reserve an area, leaving a large shelf to separate the delicious farmer's pipes for guests to experience at the shop. All farmer's lines at Tien Lang Coffee are cleaned and cleared every day. Ensure hygiene and bring the best experience for customers to the coffee.
Regarding farmer's pipes, we have more than 12 types of farmer's pipes with different quality and price. When it comes to choice and experience, customers will surely choose the type that is
suitable for their taste, suitable, suitable for smoke, and affordable. Currently, the shop has a small retail package of farmer's pipes for customers with little need for experience.
Regarding drinking water, we bring you the most "northern" experiences possible: pickled apricot water, soaked deep water, northern tea, smoothie juice, fruit teas…
Why are we proud to be a "thuốc lào – Tobacco" cafe in Saigon?
Like you, we – also thuốc lào – Tobacco-tians, when we first entered Saigon, also experienced the feeling of being hacked, the service was bad when looking for a coffee shop with "thuốc lào – Tobacco" in Saigon. The price of "thuốc lào – Tobacco" and farmer's pipes are expensive, bad drugs – the lake is rampant, moldy "thuốc lào – Tobacco" suck in a sore throat, crowded seats, guests sitting around spitting and vomiting profusely, bad and expensive drinks, space dirty…. is what we have to go through.
That's just our personal experience, in some places but not all. There are definitely quality coffee shops in Saigon that we couldn't find at first. But our initial experience here was "very bad".
Phu Gia sees itself, this "North" culture as if it is being stigmatized in Saigon. And exactly we need to do something to change this perception! From that day, we were motivated to start building a prestigious and quality "thuốc lào – Tobacco" cafe in Saigon: Tien Lang Coffee.
Coming to Tien Lang Coffee – Waterpipe Cafe in Saigon, you can rest assured to enjoy the moment of relaxation, chill by the "thuốc lào – Tobacco" and watch the flow of life. Tien Lang coffee always assures you:
The quality of drinks, food, farmer's pipes, "thuốc lào – Tobacco" is always the highest, ensuring the quality of customer experience.
The prices of the products are always listed clearly, openly, and absolutely say no to customers, whether they are people in Ho Chi Minh City or tourists visiting. Prices are always adjusted to give customers as much value as possible.
The space is always kept clean and comfortable for customers. Tien Lang Coffee always refuses to serve customers who spit, and vomit indiscriminately, ensuring a clean and polite space, and improving the quality of the craft community here.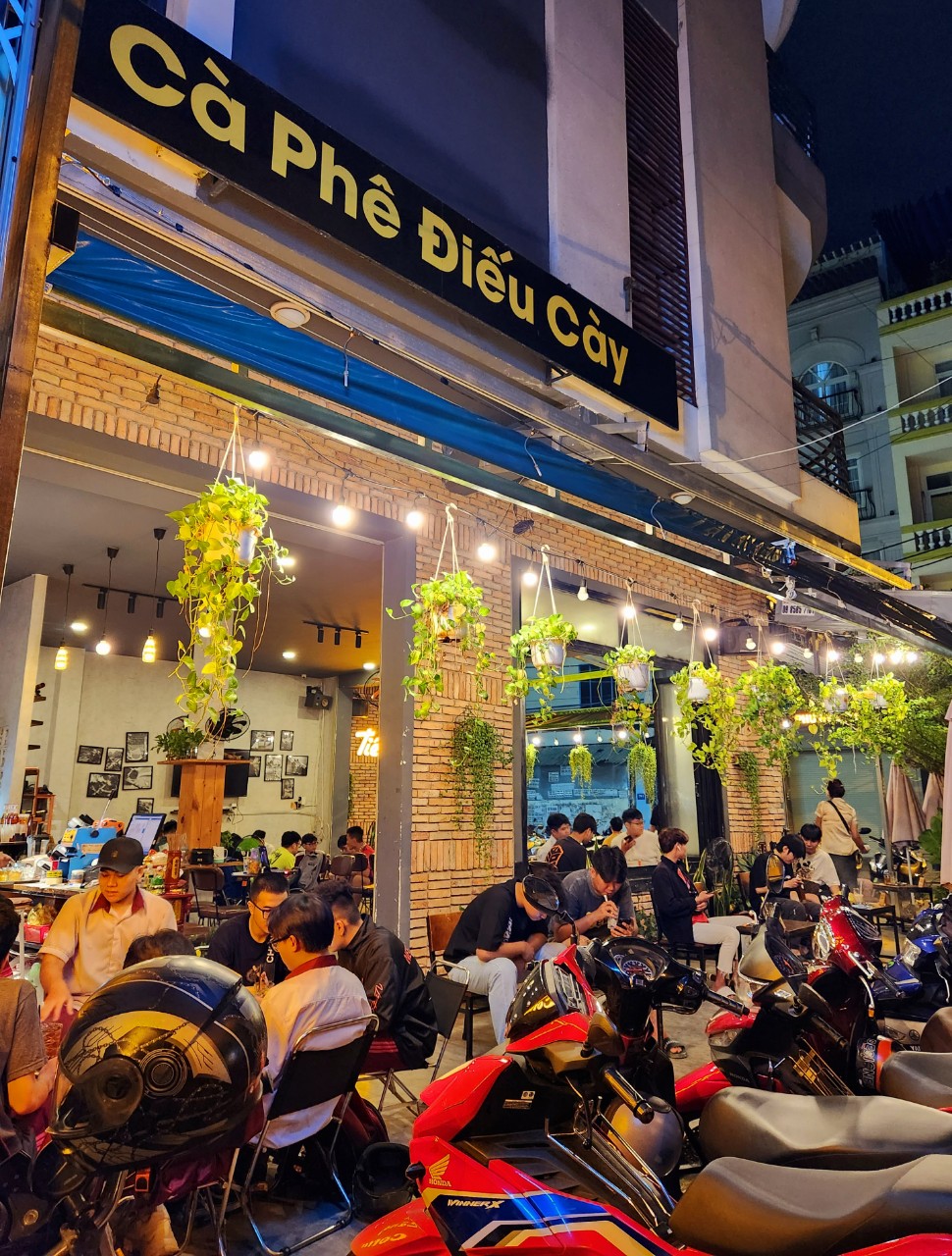 Currently, Tien Lang Coffee – "thuốc lào – Tobacco" coffee in Saigon has appeared on all platforms. The quality of the shop's products and services are often publicly reviewed by customers, creating trust for customers to come later.
We are always proud to have developed as a "thuốc lào – Tobacco" supermarket / "thuốc lào – Tobacco" cafe in Saigon, a giant playground for thuốc lào – Tobacco-tians. An excellent place for customers to trust to choose as a place to relax and experience!
Message us when you need advice or have any questions. We are always welcoming and ready to assist players.
Tien Lang Coffee HCM – "thuốc lào – Tobacco" coffee in Saigon – brings the best "Tien Lang" experience for everybody.
Fanpage: Tien Lang coffee
304C Trinh Dinh Trong, Hoa Thanh, Tan Phu, Ho Chi Minh City
Tel/ Zalo: 0383268024